Product Description of Acrylic Liquid Monomer
Revolutionize your nail art and nail extensions with our Acrylic Liquid Monomer, the ultimate choice for nail enthusiasts. Our monomer acrylic nail liquid is not only private label, but also offers a customizable formula, allowing you to create a unique and personalized product. With over 2000 color choices available, you'll have endless options to express your creativity and match any style or occasion.

Product Advantages of Acrylic Liquid Monomer
Long-Lasting and Flawless Results:
Backed by leading technology and excellent quality, our Acrylic Liquid Monomer ensures a long-lasting result that will impress. Say goodbye to chipping and lifting, and enjoy nails that stay flawless for weeks.
Easy to Use for All Skill Levels:
Designed with ease of use in mind, our Acrylic Liquid Monomer is perfect for both beginners and professionals. Its smooth application and quick drying time make it a favorite among nail artists of all levels. Achieve a professional finish with every application.
Elevate Your Nail Game:
Don't settle for less when it comes to your nails. Experience the difference with our Acrylic Liquid Monomer. Whether you're a beginner looking to enhance your nail game or a professional seeking a reliable and high-quality product, our Acrylic Liquid Monomer is perfect for all your nail needs. Try it today and elevate your nail art to new heights.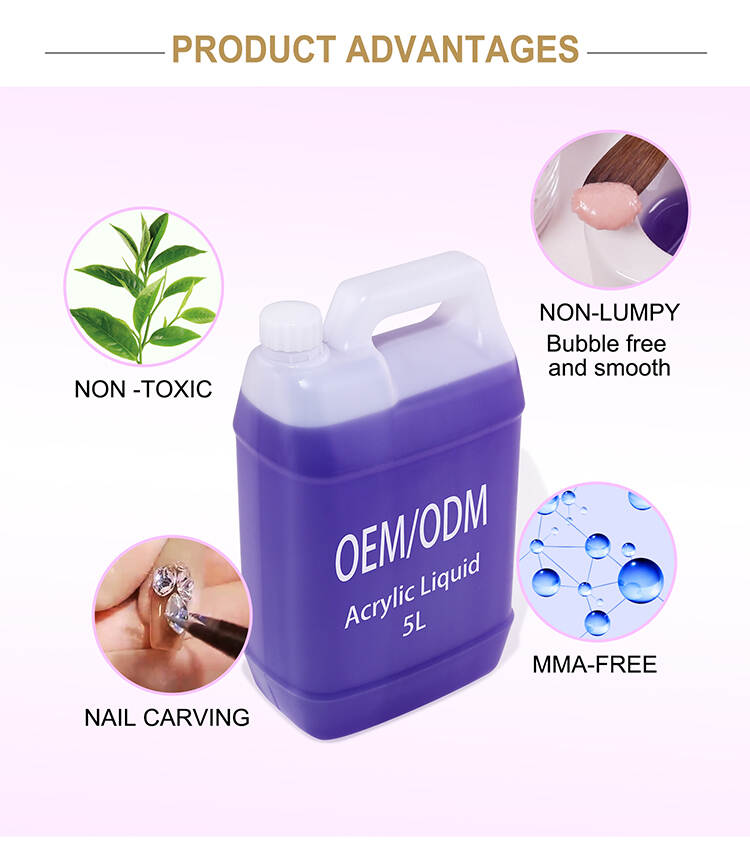 Order Processing and Quality Assurance Process
Color Selection: The customer selects the desired color(s) for their order.
Sample Testing: A sample is prepared and tested to ensure it meets the customer's requirements.
Sample Approval and Deposit: If the sample is approved, the customer pays a deposit to proceed with the order.
Production Order: Upon receiving the deposit, a production order is generated.
Pre-Filling Color Check: Before filling, the colors are checked to ensure they match the customer's specifications.
Filling Process: Once the colors are approved, the products are filled according to the order requirements.
Quality Inspection and Sample Retention: After filling, the products undergo a thorough quality inspection, and samples are retained for reference.
Customs Inspection: If the quality inspection is successful, an application is made to the customs authorities for product inspection.
Shipment Arrangement: Once the customs inspection is passed, arrangements are made for shipment.